OVERSIGHT OF SOA ACTIVITY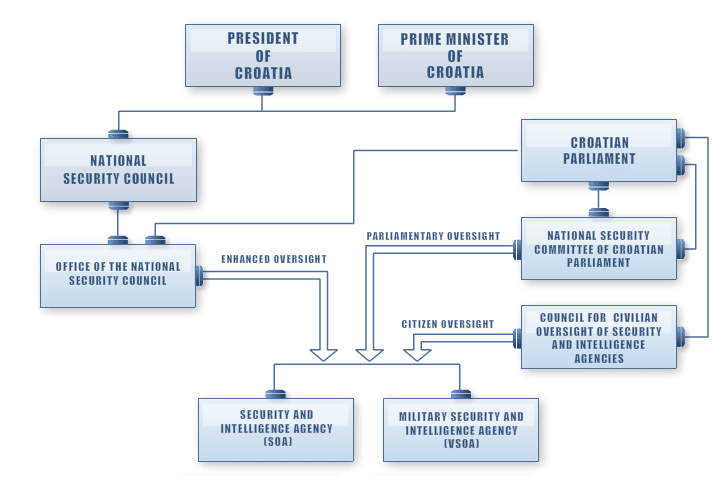 In accordance with the best practices of the developed democratic countries, the work of Croatian security and intelligence agencies, including SOA, is also subject to oversight. However, Croatian oversight system has gone a step further. Croatia is one of few countries where the civilian oversight over the agencies' work is conducted along with the parliamentary and expert oversight.
There are, therefore, three oversight levels:
parliamentary
expert
civilian
If we take into consideration that the Supreme Court must approve the measures which infringe the constitutional rights of citizens to their privacy, we can also say that there is a fourth oversight level i.e., the judicial.
The Office of the National Security Council conducts expert oversight, the Croatian Parliament conducts parliamentary oversight directly or through a parliamentary committee authorised for national security, and the Council for the Civilian Oversight of Security and Intelligence Agencies conducts citizen or civilian oversight.
Croatian citizens with university degrees may be appointed as members of the Council for the Civilian Oversight of Security and Intelligence Agencies (6 members and a president), and at least one member of the Council must be a graduate of law, one of political science and one of electrical engineering.
Aside the above-mentioned oversight there is within SOA a special organisational unit responsible for the oversight over the work of the SOA employees, which cooperates closely with the external bodies for parliamentary, expert and civilian oversight.
The goal of the internal oversight/control is to timely prevent the activities of employees, which could be characterized as illegal, and to eliminate the risk of potential abuse of powers, misuse of the gathered data or of material resources for private purposes.
Internal oversight, along with prevention, also includes conducting investigations when suspicion arises or if news is received that an individual SOA officer has acted contrary to rules and regulations.